If you want your pavers to look their best, just call us we'll do the rest!
Concrete and brick pavers have become very popular for outdoor hardscapes, driveways, patios, sidewalks and outdoor kitchens. Pavers are simply small pre-cast blocks of colored concrete that are assembled in various patterns. Although pavers are very hard and durable, they are also extremely porous. This makes them very vulnerable to oil stains, spills and moisture related problems such as efflorescence. The sand between and below the pavers is also a weak point. It can easily wash away with heavy rain and will also quickly start to grow weeds soon after construction. Both can cause serious structural problems for your pavers. Sealing your pavers can address all these issues, as well as enhance and restore the colors to your pavers. We have sealers that leave a completely natural appearance, and paver sealers that beautifully enhance the colors and leave a rich wet look. Sealing not only protects the paver itself, but also the sand between the pavers. As the sealer soaks deep into the sand joint, it hardens and locks the sand into a solid mass that cannot wash away or grow weeds. Aesthetically, there is no question that a properly sealed brick paver surface looks better than its un-sealed counterpart. Call Stone Creations of Long Island for all your paver and stone cleaning and sealing services.
Don't Let Your Investment Fade Away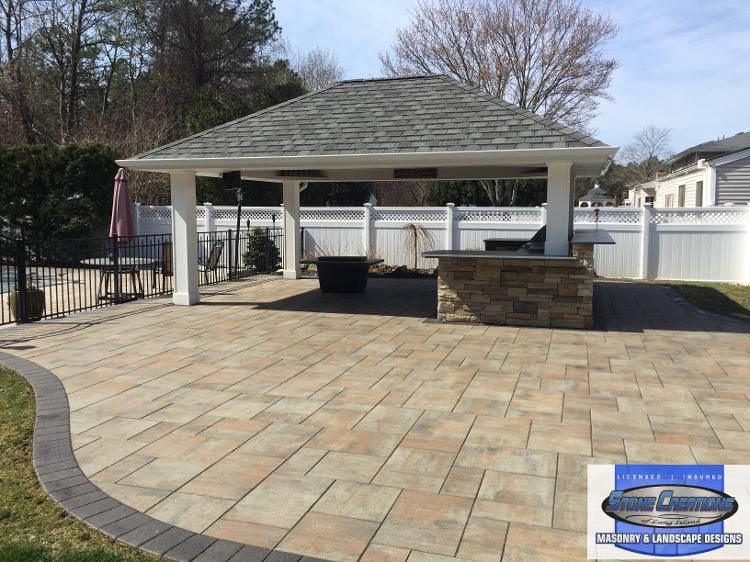 We also can revitalize & seal any of the following types of Natural Stone
Travertine

Flagstone

Slate

Marble

Limestone
CALL TODAY!!
Office: 631-678-6896


Read Our Warranty
Stone Creations of Long Island Inc. warrants our paver and stone sealing application against defects in workmanship or material failure such as cracking, peeling or turning yellow as follows:
Stone Creations of Long Island Inc. offers a 1 year warranty and will repair at no charge all defects due to workmanship or materials.
Important: WARRANTY IS VOID IF BRICK OR STONE HAS BEEN PREVIOUSLY SEALED. This warranty excludes damages caused by failure of any previous Sealer or failure of the substrate, or damage caused by customer abuse or neglect. Slate, bluestone, granite and any other natural stone which the customer requires to be sealed is not covered by the warranty. "Efflorescence" is not covered by this warranty. According to the "ICPI" (interlocking concrete pavement institute), efflorescence is a natural process, in which a random white haze may appear on the surface of the brick or paver, which is caused by lime or a water soluble calcium oxide that rises to the surface after repeated saturations due to rain or sprinklers. Efflorescence does not affect the integrity of the bricks and will usually resolve itself with time and exposure to the elements.")
In addition, some brick pavers lie in a heavily moisture ridden substrate (due to improper drainage) which may cause the bricks to retain moisture and cloud the bricks. Only proper drainage will correct the problem and is not the responsibility of Stone Creations of Long Island.
The customer understands that the sealing is only as good as the quality and condition of the bricks that are being sealed! No claim is expressed or implied that we can totally remove all stains prior to application. We remove as much as is possible with today's technology, yet some stains such as paint, oils and efflorescence are set deep into the pores of the bricks making total removal impossible without serious damage to the delicate surface of the bricks. Some stains can only be removed by having the bricks replaced. In addition, no claim is implied on how long the sealer will last (condition, quality and how well the pavers are maintained can effect durability). Note that sealing bricks and stone can cause the surface to be slippery in some cases, which we can not be liable for.
Installers of Sheer Descent Waterfalls, Long Island Driveways, Cambridge Pavers, Nicolock, Techo-Bloc, Brickwork, Deer Park, N.Y 11729 , Bricks, Brickwork, Pool Decks, Sealing Pavers, Maintenance, Asphalt, Steps, Stoops, Cultured Stone, Bluestone, Crab Orchard, Limestone, east-west stone, Natural Stone, Travertine, Marble, Outdoor Living, Patio's, Drainage, Stucco, Foundation, Pavers, Concrete, Masonry, Brickface, Long Island Contractors, Long Island, Outdoor Living Contractors, Nassau County, Suffolk County, Driveways, Asphalt Driveways, Paver Driveways, Stone Veneer, Concrete Driveways, Pebble Driveways, Belgium Block Driveways, Gravel Driveways, Stonework, Walkways, Sidewalks, Porches, Waterfalls, Rock Gardens, Ponds, Pool Decks, Coping, Pool Surrounds, Outdoor Kitchens, Grills, Pizza Ovens, Firepits, Seatwalls, Light Pillars, Mailbox's, Cultured Stone, Stone Veneer, Stucco, Retaining Walls, Stone Garden Beds, Rock, Gravel, Bluestone, Landscape Design, Landscape Lighting, Planting Beds, Sod, Seed, Topsoil, Mulch & Much More!!!!
Call for a Free Estimate
(631) 678-6896
Stone Creations of Long Island
20 Warwick Street
Deer Park, NY 11729
Licensed & Insured